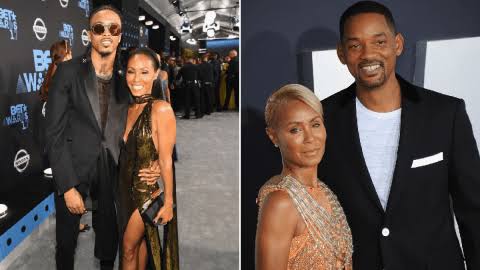 August Alsina and Jada Pinkett smith relationship have taken a twist after August Alsina revealed there were more than friends.
The R&B singer who in a chat with Complex while promoting his latest project, Product III: stateofEMERGEncy, talked about his relationship with Jada smith.
After a long-term close relationship with the Smith family, it has been revealed that August Alsina was having an affair with Will Smith's wife, Jada. In defense, August said that Will Smith okayed his affair with Jada — that he gave him greenlight.
August Alsina and Jada Pinkett smith reportedly met in 2015 after being introduced by Jaden.
August has previously denied having any serious affairs with Jada smith.
In an interview with complex August told Angela Yee,
"I actually sat down with Will [Smith] and had a conversation due to the transformation from their marriage to life partnership," he said. "He gave me his blessing."
"I totally gave myself to that relationship for years of my life, and I truly and really, really, deeply loved and have a ton of love for her," he said.
"I devoted myself to it. I gave my full self to it. So much so that I can die right now, and be OK knowing that I fully gave myself to somebody … Some people never get that in this lifetime."
He also told Yee that leaving the relationship "butchered" him.
"It almost killed me. Not almost. It did—it pushed me into being another person," he said.
"It broke me down … It probably will be the hardest thing I ever had to experience in this lifetime."
Alsina also said in the interview that he does not want to stir drama.
"Contrary to what some people may believe, I'm not a troublemaker. I don't like drama. Drama actually makes me nauseous," he said.
"I also don't think that it's ever important for people to know what I do, who I sleep with, who I date, right? But in this instance, there are so many people who are side-eyeing me… And I think it's because people don't necessarily know the truth."
On the Pinkett Smith family, he said: "I love those people who literally like my family. I don't have a bad thing to say about them. They are beautiful people
Fans have suspected of August Alsina and Jada Pinkett smith relationship, we are waiting on Smith Family to respond.
As at time of reporting this news American actor Will Smith is yet to respond to these allegations.