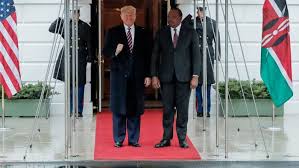 Kenya president Uhuru Kenyatta last week meet with Us President Donald Trump in white house during a state visit.
During the visit they agreed to initiate talks regarding a new trade deal between Kenya and Unitd states. The two leaders said a new trade pact would help increase trade & investment volumes between the two nations.
Analysts say the Trump administration is keen to pursue bilateral deals with African countries, instead of the multilateral African deal, the African Growth and Opportunity Act (Agoa), that has governed trade for the past 20 years – and will do so until 2025.
President Kenyatta after the meeting with Donald Trump told business leaders in Washington that a new trade deal would not undermine the African Continental Free Trade Agreement (AfCFTA) – an African Union-led initiative to remove barriers to trade, like tariffs and import quotas, allowing the free flow of goods and services between its members.
"At this juncture I just want to put away a few doubts because there has been a feeling that by Kenya engaging with the US to have a trade arrangement, we are running away from our commitment to the African Continental Free Trade Arrangement," President Kenyatta said, according to a statement from his office.
"I want to assure you that there can be nothing further from the truth as that is definitely not the case."
Kenyan economist Aly-Khan Satchu told the BBC's Newsday programme that "the other African countries are going to be unhappy that Kenya has broken cover and is negotiating bilaterally. "He [President Kenyatta] has got to allay the concerns of his peers in the rest of Africa."
Previously Trade between Kenya and US amounts to roughly $1bn (£772m) annually, with the trade deal economist expects the amount to rise significantly.